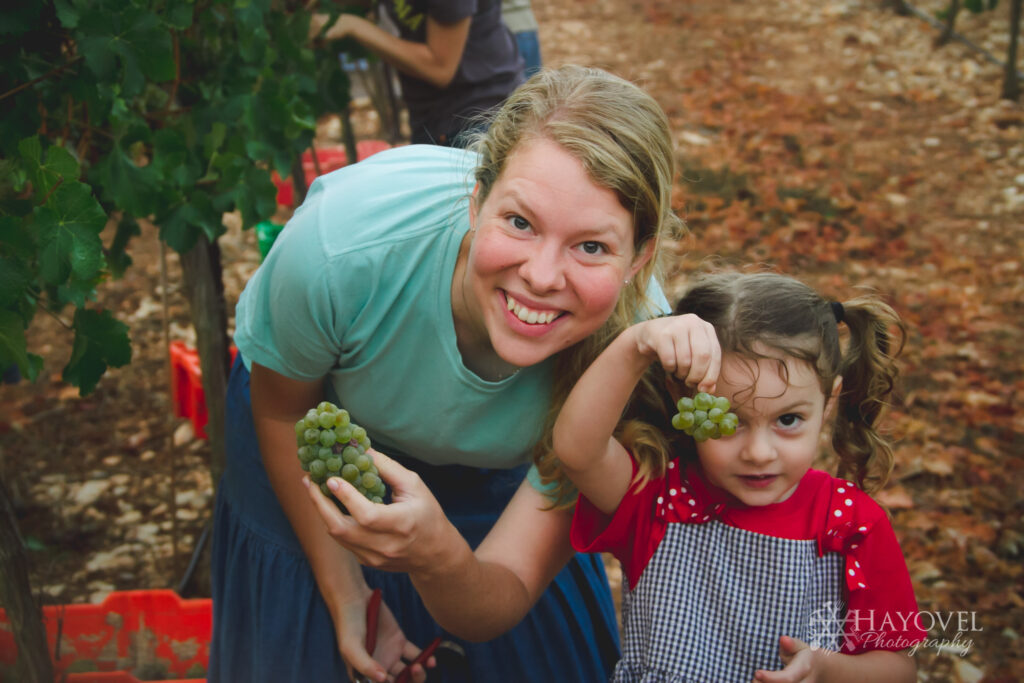 Christians come from all over the world to volunteer in Israel and harvest grapes in the place that the world would call the "West Bank". Strange? Some would definitely call it peculiar. 
A Tennessee Christian Who Wanted to Volunteer in Israel
When Tommy Waller first came to Israel in 2004, he was looking for a way to help the Jewish people. Being a Bible-believing small farmer from middle Tennessee, USA, he was naturally attracted to agriculture.
When a mutual friend introduced him to a farmer in the community of Har Bracha (Mount of Blessing), Tommy had a profound experience. The farmer's name was Nir and he took him to his vineyard and read a Scripture from Jeremiah 31:5: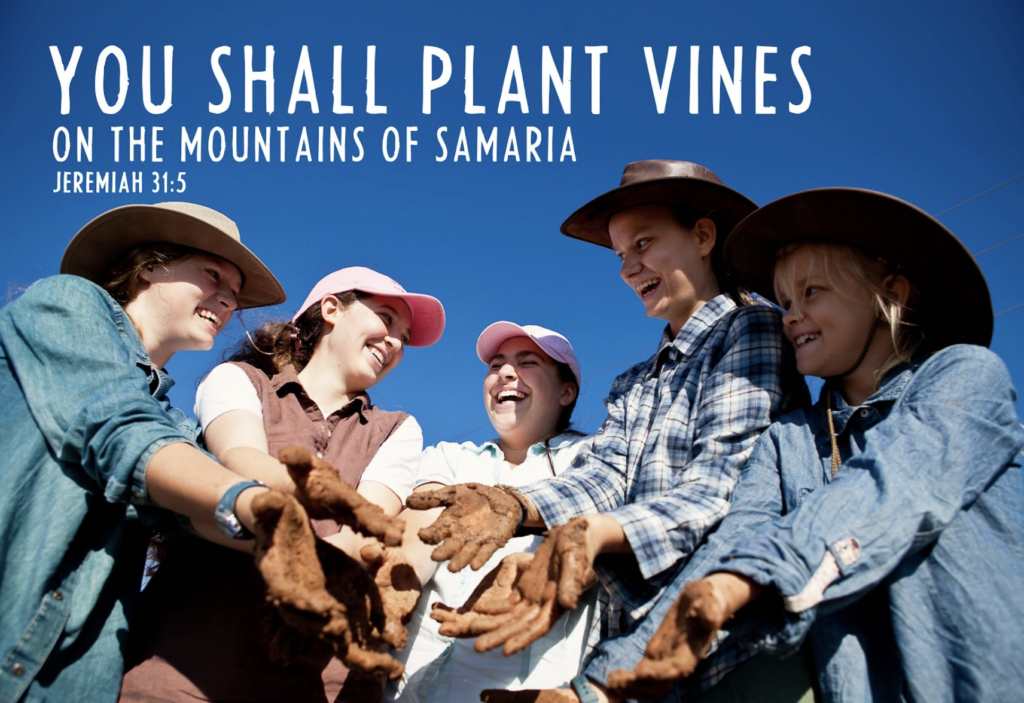 Tommy saw an ancient prophecy coming to life before his very eyes, and he knew that he had to somehow be involved.  
Defying the Odds
The story of Nir's vineyard is a miraculous one. The agricultural experts of the day said that vines would not grow in the rocky, barren soil of the Samaria region that lies just north of Jerusalem. Nir, however, being an Orthodox Jew who believed the Bible, refused to believe the experts, and instead followed an ancient prophecy spoken 3,000 years prior. The result? Beautiful vineyards that produce wine that has won awards and medals in international competitions. More about that later. 
When Tommy saw Nir's vineyard, and heard the prophecy from Jeremiah, he began to see that God was doing something prophetic in the Land of Israel. After lying barren and rocky for 2,000 years, when its people began to come back from the four corners of the earth, the land responded by beginning to blossom and bloom. Tommy knew that he had to be a part. 
Setting Out to Volunteer in Israel
Packing up his farm in Tennessee and bringing his wife and eleven children with him, he began to make trips to the mountains of Samaria to help Nir Lavi with his vineyard and farm. The biggest need was to bring in the harvest, when the grapes need to be picked very quickly, and many hands are needed at once. The second biggest need was to prune the vines during the winter season. Traveling back and forth to Israel for several years with his family, Tommy started HaYovel Inc. in 2007, a nonprofit organization in the United States whose sole mission is to bless and serve the land and people of Israel. 
Over the next several years, the Waller family's friends began to join them in Israel for the harvest and pruning seasons. When they were not in Israel, they began traveling through North America in a red school bus turned RV, speaking in churches and congregations about the need for Christians to actively support Israel, and inviting them to come join in the work. 
Christian Volunteers Come From Across the Globe
In 2009, close to 100 people joined the volunteer work for the fall harvest, and in 2011, 300 volunteers came and harvested grapes. The work had now expanded to two more farmers, from the Mount of Blessing in northern Samaria, all the way to Jerusalem, and included four different vineyards and farms.
From there, the work blossomed and grew into much more than just "picking grapes." To date, 3,000 volunteers have joined HaYovel from 30 countries all over the world! HaYovel has been able to provide assistance for more than 50 farmers throughout the regions of Judea and Samaria, the biblical heartland of Israel. 
What is it like to Volunteer in Israel?
Coming to volunteer with HaYovel is much more than just working the Land. Volunteering in the vineyards and olive groves four days out of a week, volunteers are taken on tours all over the areas of Jerusalem, Judea and Samaria, meeting the local people, seeing biblical and covenant sites such as Elon Moreh (Genesis 12, where God promised Abraham the Land), Shiloh (where the Tabernacle sat for 369 years), Bethel (where Jacob had a dream of a ladder ascending to heaven), Jerusalem, and so much more!
Staying on Har Bracha (the Mount of Blessing), nearly every evening, volunteers hear from influential speakers such as Members of Knesset, rabbis, pioneers, and heroes of Israel's history. Local family businesses are brought in as an opportunity for volunteers to support the local economy by purchasing authentic Israeli products. By the time that volunteers leave to go back to their homes, they are educated ambassadors, ready to be advocates on behalf of Israel. 
Supporting Israel Through International Advocacy
In addition to bringing volunteers to Israel, HaYovel actively supports and advocates for Israel in a multitude of ways. Dynamic speakers travel the globe, sharing the special story of restoration that is unfolding in the Heartland. Conferences and events held in the US and Canada, and training opportunities in Missouri are all part of HaYovel's mission to strengthen and undergird Israel. HaYovel also produces The Israel Guys, a news network with videos, articles and podcasts that connect audiences around the world with the true and authentic stories of Israel. 
Where Prophecy Meets Reality
Travel now with me now back to Nir's vineyard. As the sun begins to rise over the local community in Har Bracha, volunteers begin to stream into the vineyard. Mothers pushing strollers, young people just out of high school and college, retired men and women, and those who have taken vacation time from their jobs––they are all here. They have come from all parts of the world to participate in this work – picking grapes. 
The agricultural experts were wrong. Nir's vineyard is flourishing, and not only that, it has grown more than 700% since Tommy Waller first came and stood here. Hanging in his visitor's center are gold and silver medals awarded him in international wine competitions. His wine fulfills an ancient prophecy spoken by Amos the prophet:
"Behold, the days are coming," says the LORD, "when the plowman shall overtake the reaper, and the treader of grapes him who sows seed; the mountains shall drip with sweet wine, and all the hills shall overflow with it."

(Amos 9:13 NKJV)
Volunteers also fulfill a prophecy, unknown to Tommy Waller when he first came to Israel. Isaiah 61:5 says that "…the sons of the foreigner shall be your plowmen and your vinedressers." Christian volunteers from all over the world travel to Judea and Samaria to pick grapes. Strange. Some would call it peculiar.
As we like to say, the heartland of Israel is the place where "prophecy meets reality."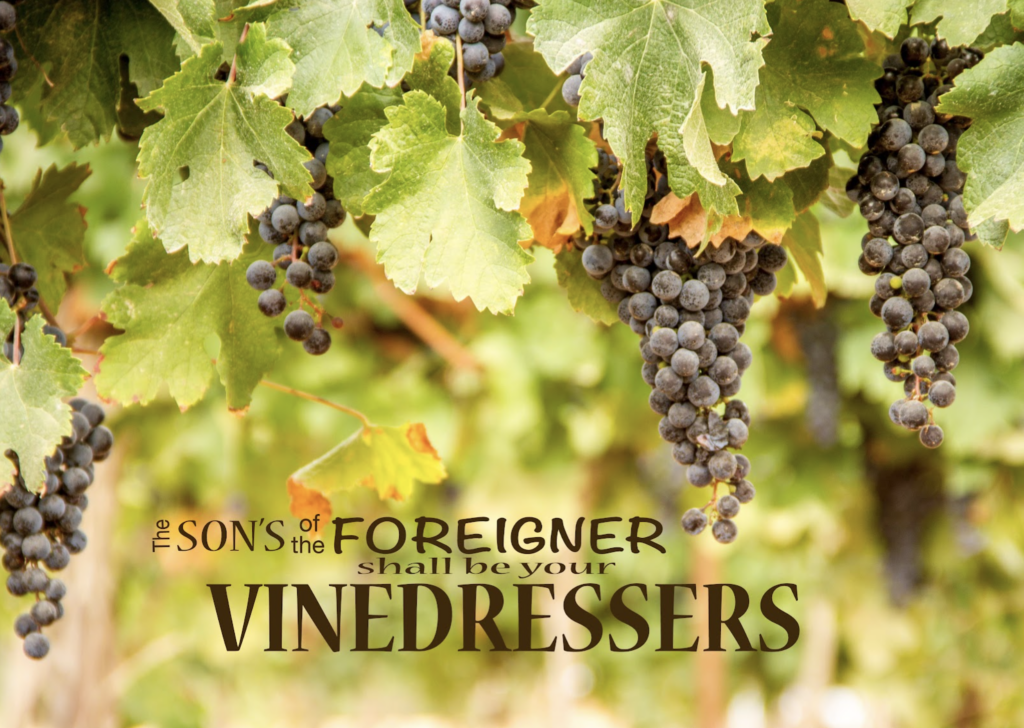 We invite you to join us. We welcome volunteers of all ages to join us for one of our many family-friendly volunteer trips. Check out our website for photos, videos, and information about how to join us in Israel for one of our many year-round opportunities.